Stockley Center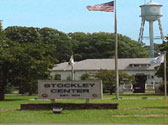 Stockley Center, located in Georgetown, Delaware, is minutes from the beach and proximal to major cities such as Baltimore, Philadelphia and Washington. A popular facility for nurses since 1921, the campus boasts over 700 acres of wooded land and a tranquil atmosphere.
The mission of Stockley Center is to support and empower individuals with intellectual/developmental disabilities to make choices, exercise and affirm their rights, and to live successfully in the community.
Nurses who provide services to individuals with disabilities play an important role in many areas such as:
Health and wellness coordination
Communicating and interpreting healthcare information for the individuals residing at the facility, their families and other members of the interdisciplinary team
Active treatment Skilled nursing care
Rehabilitative/respite services
It is time to take the first step toward a dynamic career at Stockley Center!
For more information:
Contact: Kelly Ellingsworth
Nursing Recruiter
(302) 933-3000