Department of Correction...
Delaware's Largest Law Enforcement Agency
Discover a World of Opportunity!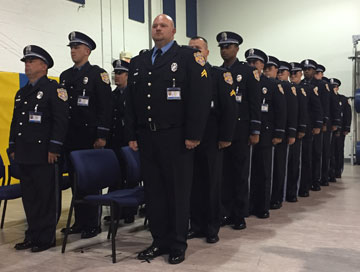 When you join the State of Delaware as a Correctional Officer, you will find tremendous promotional opportunities and your experiences will be far reaching.
The Delaware Department of Correction supervises about 7,000 inmates in its prisons and approximately 17,000 probationers in the community. As a Correctional Officer you will be placed at facilities around the state and will be the first line of defense in the department's mission to ensure public safety.
Delaware Correctional Officers have full police powers as defined by the Delaware Code whether supervising offenders at any place within the State, while going to or returning from such duty, and while searching for escaped offenders.
Working as a Correctional Officer for the State:
Allows you to Make a Difference in the lives of Delawareans

Offers you an outstanding Benefits Package

Offers Security and Stability while working for Delaware's largest law enforcement agency

Offers unmatched Variety, Flexibility and Career Growth
Start a new career in Public Safety, and be eligible for a $5,000 Signing bonus!
The Delaware Department of Correction (DOC) recognizes its employees as a highly valued resource and are offering Monetary Recruitment Incentives to new DOC employees in accordance with the DOC Employee Signing Bonus Program.
The program provides recruitment incentives as follows:
Sign-On Bonus - $5,000 to new Cadets paid in three (3) installments; $1,000 after completion of first 10 weeks, $1500 after upon graduation from CEIT, and $2500 after 18 months from date of hire.

Out of State Correctional Officer Pay - Upon successful completion of the Correctional Employee Initial Training (CEIT) course, employees who have equivalent work experience from another Department of Correction agency may be placed on the salary step table with up to 10 qualified years of experience.
NOTE: This program is administered by the Department of Correction Bureau of Administrative Services. The program may be terminated by the Department of Correction at any time with or without notice.
Don't miss any new opportunities...
Sign up for Email Alerts for our Correctional Careers